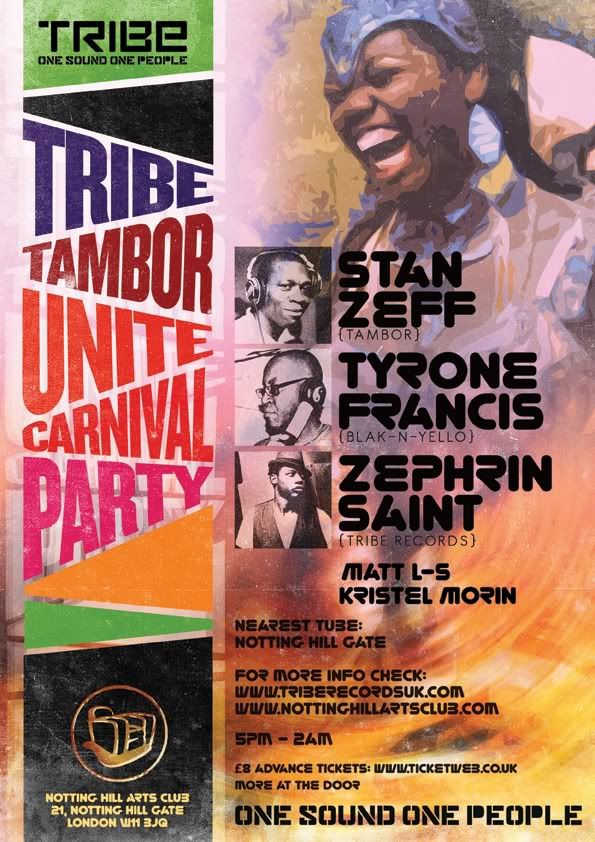 SPECIAL GUESTS: STAN ZEFF (TAMBOR, ATLANTA) & TYRONE 'MIXOLOGIST' FRANCIS (NEW YORK)
FEATURING RESIDENTS: -
ZEPHERIN SAINT, MATT L-S & KRISTELLE MORIN (TRIBE RECORDS)
Following the much talked about Tribe carnival party last year, Tribe return to the Notting Hill Arts Club for another big celebration on Monday 29th August. This time we've reached out across the Atlantic to our close friends in Atlanta, Tambor and collaborated with them on a series of exciting events.
Tambor is the No 1 Deep House event in Atlanta winning awards for the best party in 2010. It only felt right for Tambor and Tribe to untie and throw a host of global parties starting in London and then moving on to Toronto the following weekend.
Tribe welcomes back the prodigal sons Stan Zeff and Tyrone 'Mixologist' Francis (New York) both born in the UK for one of the highlights of this year's carnival.
Stan Zeff has been spinning for over 20 years, and both he and Zepherin were two of the original members of the Shock Sound System who played 12 years straight at the carnival to crowds of 2000+. This will be the first time they will play together since the infamous Shock disbanded, so this party is more than just a reunion!
Stan Zeff now resides in Atlanta Georgia, and aligns his music style to the London, New York house scene will take you on a musical journey merging the Soulful House, Afro Cuban, Classics and deep genres.
Tyrone Francis is a veteran to the house music scene. With the rightful alias, the "Mixologist" – Tyrone is one of NYC's finest Disc Jockey when it comes to technical skills and phenomenal mixes. With a keen ear for sound, Tyrone believes that sound is just as important as your musical programming. – A party with the "Mixologist" is one that fans everywhere anticipate.
The carnival is always full of amazing color, sights, sounds and we want to bring people together in London to celebrate the end of carnival in style with some great deep soulful afro house sounds, bringing the unique TRIBE flavor.
Monday 28th August
Notting Hill Arts Club
21, Notting Hill Gate
London W11 3JQ
£8 in advance from Ticket web
http://www.ticketweb.co.uk
. More on the door
Time: 5pm-2am
For more information check:
http://www.triberecordsuk.com
/
http://www.nottinghillartsclub.co
​m[/url]